Shopping Cart
Your Cart is Empty
There was an error with PayPal
Click here to try again
Thank you for your business!
You should be receiving an order confirmation from Paypal shortly.
Exit Shopping Cart
The Paul Pert Screen Collection
A Resource Devoted to Classics of the Golden Age
____Incorporating The Cult Screen Archive____
Carpenter also addressed recent rumours that a Catweazle movie may be in the offing. It's clear to devotees that Geoffrey Bayldon is Catweazle, and always will be Catweazle — a fact of which Carpenter is most definitely aware. The fact that Bayldon feels he is too old to meet with the physical demands of reprising his role, is therefore the subject of shared regret. Carpenter is however still keen to take his career full circle.
Richard Carpenter: 'It's an impossibility actually, to recast, so I have to look outside it and think: it's a different thing; it's not the television series starring Geoffrey Bayldon, it's something completely different, but I wanted to do it. It's sort of circular … you start your television career with Catweazle and you'd like to finish it with a film of Catweazle. We are still trying to get the film made. It's a mixture of things that you will sort of remember from the series and a whole lot of new stuff as well ... it's not easy, it really isn't; it's the most difficult thing I've had to do, but I think we've got a script that works and I think we've got a possible Catweazle. Maybe we'll make a film, maybe we won't; it's in the lap of the Gods.'
Richard Carpenter was awarded the prestigious Writers' Guild Award for Catweazle in 1971 and progressed to write series such as Black Beauty, The Ghosts of Motley Hall, Dick Turpin, Smuggler, Adventurer, The Borrowers, The Scarlet Pimpernel and the highly successful Robin of Sherwood series amongst others. He is a fascinating man who is passionate about his craft, as anyone who has ever conversed with him about his work will concur. I spoke to Richard about his thoughts on today's television in general, and true to character he was gratifyingly forthright.
Richard Carpenter: 'I have been associated with several series over the years and they have generally all been happy experiences. It was at a time when people in television were less uptight about what they did, and as a consequence, were less anxious and more spontaneous. As a result, they were more creative. That all sounds a bit pompous, or do I mean portentous? Put simply: we enjoyed doing what we did.
'It's my belief that two groups of people have actually made things worse: script editors and the monstrous army of accountants. Script editors are concerned with words on the page and have no conception of how those words are transmuted by the production team and the actors into talking and moving pictures. And as for accountants: not the most inspiring bunch of people are they? It doesn't matter how good a script is if it is miscast and has a producer or a director without real imagination and flair. Ego isn't enough. I climb hastily off my soapbox … .'
Geoffrey Bayldon's recounting of his unforgettable final scene with Robin Davies can still bring a lump to his throat, and it's plain to see that even after almost forty years they are both still touched by the whole magical experience. The last word on this really goes to Robin Davies, who when asked what was the most important thing he'd learnt from working with Geoffrey Bayldon, prompted an emotive ovation with his succinct reply: 'Friendship … it's as simple as that … friendship.'
February 2010 will mark forty years since this lovable time-traveller burst onto our television screens in a blaze of colour; his legendary expressions of wonderment having become deeply engraved in the tablet of British cult television folklore. Catweazle remains an endearing and enduring trip back to simpler, gentler times — to an age when the British bobby wore bicycle clips and Sunday teatimes were a sacrosanct, unifying family rendezvous, involving paper doilies and Battenberg cake. For those fortunate enough to have lived the moment, this charming and unique television series transports them back in a way that many other shows of the time don't; this is its lasting and evermore poignant appeal.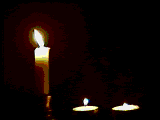 © 2010-2013 Paul Pert
With thanks to all 'Brothers in Magic' past and present for their inspiration and for keeping the amazing Catweazle phenomenon alive.
/